The year 2020 may not be the best year when it comes to equestrian sport, it may however be a very important year for breeding. The foals that are born in 2020 are legendary already, not only because they were probably born during a global pandemic, but mostly because of their amazing qualities. Equbreeding, a new initiative of Darragh Kenny, Jody Bosteels, Matthias Claeys and Bram Van Hulle, wants to bring those legendary foals together in an online-auction, focussed on foals that will probably jump at the highest level one day.
In uncertain times, it's important to keep investing in our sport", Darragh says. "Actually the cancellation of the shows was good news for breeders and breeding in general. They got the opportunity to breed with the best mares and stallions that 'under normal circumstances' wouldn't be available. With our project we want to bring the offspring of these top horses together and I truly believe we managed to do so. All foals are directly related to proven dam lines and top mares, so I'm confident these foals will all be jumping at the highest level one day", he adds.
A quick look at the selection proves that Darragh is not lying about the quality of the foals in this collection. Udo van't Meulenhof is a colt out of Carthina Z. This mare may not directly ring a bell but she is also the mother of Emerald van't Ruytershof (Harrie Smolders), Ilusionata van't Meulenhof (Niels Bruynseels) and Diamanthina van't Ruytershof (Constant van Paesschen), all jumping at the highest level. Another colt with a bright future ahead is Bernardini JT Z, a stunning Baloubet du Rouet out of the full sister of the famous Hardrock Z himself. His halfbrother by Chacco Blue was the auction revelation in a well established auction in Belgium, sold for a staggering amount.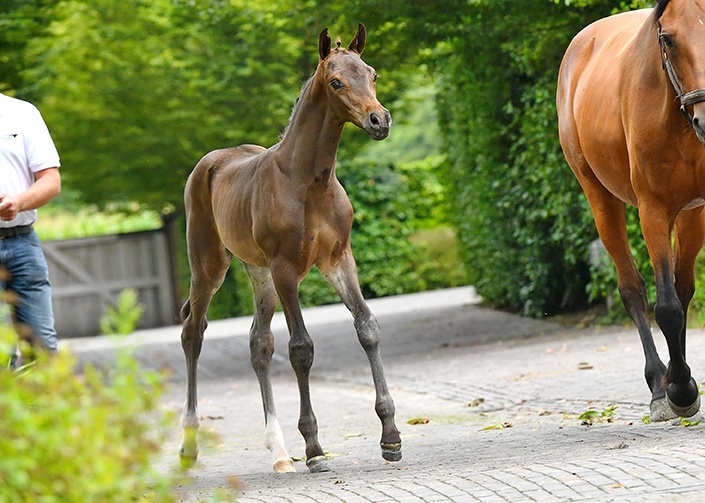 Odessa Keros is another filly that stands out. Her father is ASB Conquistador and her mother is Nasia van het Gravenhof, the direct mother of the legendary Hello Sanctos of Scott Brash. Hello Sanctos hardly needs an introduction: with his British top rider he was the only horse who ever won a Grand slam in showjumping!
"We also have a very exclusive foal in our action", Darragh continues. "We have a son of Heartbreaker out of Hera van t Roosakker, the only daughter of Cella.After Cella has been crowned with a golden and silver medal at the European Championships with Ben Maher she was forced to retire early after an unlucky injury. Cella only has given four (!) products who all jumped 1.50m level.We are very happy to announce that a son of the only daughter of Cella, will be sold at the Equbreeding auction".
The online auction is not only focussed on foals, but on embryo's as well. "We will auction an embryo of the famous Chacco-Blue out of the full sister of Romeo 88 of Darragh Kenny, a full sister/brother of GP of Calgary-revelation Jeunesse ridden by Yves Vanderhasselt and an embryo of Emerald van't Ruytershof out of Daloubette Van de Krekebeke. This Baloubet du Rouet daughter is jumping at 1m55 level with the Belgian rider Julie De Pelsmaeker".
To fulfill our collection we are auctioning an original straw by Chacco Blue and For Pleasure.
The full collection of Equbreeding can be found here. The auction starts at the 30th of August until the 1st of September.